Reading & Phonics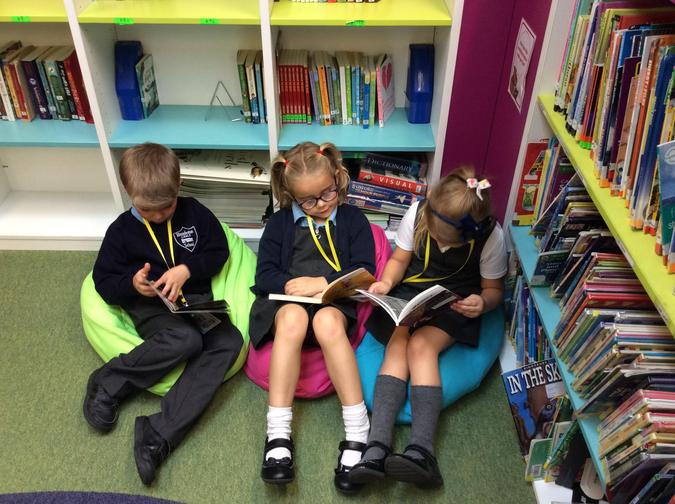 At Blundeston CEVC Primary School, we aim to foster a "habit of reading widely and often, for both pleasure and information" in all our children, regardless of ability or gender (DfE). We believe our English curriculum, including our phonics and reading provision, equips our children to achieve this goal throughout their time with us, enabling them to flourish.
Our library provides us with a fantastic space and resource to support our belief that reading is the cornerstone of education. Our librarians (children from Year 2 upwards) ensure the library is open at playtimes and lunchtimes for children to come along and read for pleasure.
All classes have the opportunity to hear and study a wide range of longer stories from our rich and varied literary history which are appropriate for their age group.
All children in the school benefit from carefully planned Shared Reading sessions, which immerse children in rich texts. The school has mapped out a progressive route, across the age groups, of reading skills that children need to learn and embed throughout their Blundeston school journey. These progressive skills generally fit into the areas of: Vocabulary, Inference, Prediction, Explanations, Retrieval of information and Summarising. We use the phrase "VIPERS" to remind children of these key skills.
Children in Reception, Year 1 and Year 2 read books closely linked to their developing phonics knowledge. Our books are organised to correlate with the phases of Letters and Sounds. We believe this enables children to practise the key segmenting, blending and decoding skills which are vital at this stage of their reading journey.
Based on teacher assessments, usually from Year 2, children will become members of the Accelerated Reader programme. This programme underpins independent reading in Key Stage 2, as it helps children and parents to understand their reading level and ensures children are reading highly appropriate books. Three to four times a year, children take a computerised assessment which calculates an appropriate reading range or Z.P.D. (Zone of Proximal Development). With all books in the school labelled with a reading level, children are highly motivated and instantly know where to look for appropriate texts. Once children have finished a book, they take a quiz to help them recognise how well they have understood it.
Children have an individual points target and enjoy working hard to achieve their Accelerated Reader certificates!
In our recent pupil perception surveys, children commented that Accelerated Reader "really motivates me to finish books and I now have a much better understanding of how to choose books at the right level" and "it helps to introduce me to different authors that I hadn't thought of before".
Phonics is taught through discrete daily sessions from Reception to Year 2. Support continues into Key Stage 2, if required, for individual children. The school follows the "Read Write Inc" systematic synthetic phonics scheme, with memorable rhymes to help children remember their sounds. Staff have worked hard to ensure a consistent approach across Reception and Key Stage 1 with regular assessments to check children's progress, in order to support and challenge where appropriate. In Reception, children focus on rhythm, rhyme and learning individual letter sounds. During Years 1 and 2, children learn sounds represented by two or more letters, e.g. ch, igh, focussing on segmenting and blending.
We are aware that learning to read phonetically is only one of the possible strategies that children may use, so alongside the delivery of phonics we also teach pupils to use a range of other approaches. For example, in Early Years and Key Stage 1, methods include reading a range of non-decodable keywords on sight and using contextual clues. In Key Stage 2, pupils are taught a continually developing understanding of the grammatical rules within the English language.